September 30, 2012
Accessories, Toys
6 Comments
baby toys
,
easy knitting patterns
,
free knitting patterns
,
kid toys
,
knitted toys
,
learn how to knit tutorials
,
small stuffed toy
,
straight needles
,
toy accessories
Feel free to link to this pattern by linking directly to this page. Pattern is not to be copied or reproduced without permission from the author. Items made from my pattern may be sold (as long as you credit me as the designer and always link it back to this blog "FREE Cute Knit.com"

), however this does not apply to business or corporation. Please contact me prior selling them at large scale. © Dina Wirawan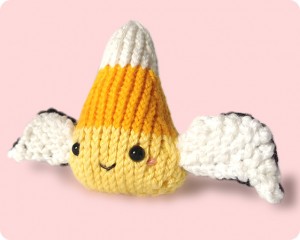 Difficulty Level:



Skills Required:
CO: Cast On
K: Knit
Kfb: Knit front and then back
M1: Make 1 stitch
K2tog: Knit 2 stitches as 1 together
Finished Size:approx 3.5cm long x 3cm height x 0.5cm depth (Please note that this size is made with the needles & yarn specified below, different yarns and needles size will produce different results)
Needles: US 3 – 3.25 mm
Yarn:
White Wings — Panda Cotton Blend 8ply in 1 White (dye lot #12001)
Black Wings — Panda Cotton Blend 8ply in 2 Black (dye lot #10613)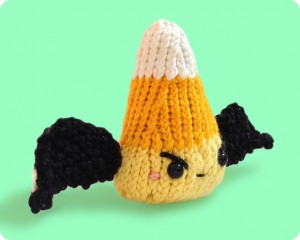 Halloween is approaching fast …! Hence, I present to you the supercharged Candy Corn with Angel & Devil wings! Everyone has that nice and naughty side to them and this knitted candy corn perfectly accommodates both sides (Yes, I made my candy corn double sided — one side with that oh-so-cute- angelic smile and on the opposite side, a cheeky one-loop-sided smile). You can see both wings overlapping a little since they are sewn back to back.
There are lots of options you can do, instead of having the candy corn double sided, you may wish to knit two separate ones (one with the angel wings and another with the devil one). You can even use this wings pattern on your other knitting projects (If you do, please check that the sizes will match your existing projects). Or, you may decided that you don't like wings after all.. It's all up to you

Please note that the pattern below is for the wings only, you can find the candy corn pattern here.
Free wings knitting pattern:
CO 2 sts
Row 1: Knit
Row 2: Knit
Row 3: K1, Kfb (3 sts total)
Row 4: Knit
Row 5: K2, Kfb (4 sts total)
Row 6: Knit
Row 7: K3, Kfb (5 sts total)
Row 8: Knit
Row 9: K1, M1, K3, M1, K1 (7 sts total)
Row 10: Knit

Row 11: K6, M1, K1 (8 sts total)
Row 12: Knit
Row 13: K2tog, K5, M1, K1 (8 sts total)
Row 14: Knit
Row 15: K2tog, K4, K2tog (6 sts total)
Row 16: Knit
Row 17: K2tog, K2, K2tog (4 sts total)
Cut yarn, leaving approx 12cm tail. With tapestry needle, insert needle through loop of each stitch and pull tight. Sew this end to the body and secure. Weave in the cast on stitch so everything looks neat.
I have also attached a video tutorial for the wings. For anyone who doesn't know how to read the pattern or simply wanting to knit one together, you can watch the video

The video is at moderate speed, so if you want to learn certain techniques within the video just let me know and I will make a slow version of the technique for you.
It took a long time to create this video, I really hope that it can be helpful to someone ♥ Remember, if you do make these wings, I would love it if you can share them with me by either sending me the photos via email / tag me on Facebook / upload them in my Ravelry
***Updates*** 4/2/13: PDF pattern added available for download
---
Feeling generous today? You can support FREE Cute Knit (Yes, any amount will help!):